---
Admission Procedure & Deadline
Application Deadline
Applicants
Application Deadline
Early Applicants
December 27, 2019
Normal Applicants
Further Notice will be provided
Note : Please note that the Admission Office of TLBU Graduate School of Law does not review applications until we have received all original required documentation.
We suggest that applicants submit the application as early as possible. The applicant must submit application along with Letter of Recommendation, Certificate of Degree Diploma or Certificate of Expected Graduation, Official Transcript, Color photo(Passport photo) and Official English proficiency test score report and other documents. See the Documents Needed for Application.
---
Requirements for ADMISSION
English Proficiency
Candidates from non-English-speaking countries are required to take the Test of English as Foreign Language (TOEFL) or International English Language Testing System (IELTS) or CET. (Required for all students whose undergraduate work was not in English)
The applicant should have at least 550 Paper-based TOEFL (PBT), 213 Computer-based TOEFL (CBT), 80 Internet-based TOEFL (IBT), band 6.5 IELTS scores.
TOEIC Score or Special Admission : For those student who has enterd with high TOEIC score, or exempted from the English Exam because of special reasons (cf. get high score in English Interview), MUST later submit proper English Exam transcript mentioned above. Afeter admission, consult with Academic Affairs Office is required.
Prerequisite Legal Education
Applicants for Masters program must have received a bachelor`s degree (or equivalent) in law from an approved institution. Or expected to receive by the end of July of year prior to the start of semester you are applying for.
Applicants for the Doctorate program must have received a masters degree (or the equivalent) in law from an approved institution Or expect to receive by the end of July of year prior to the start of semester you are applying for.
Official Diplomas : For those applicants who apply before receiving their degrees, a certificate of expected graduation that states the anticipated date of graduation from your undergraduate institution's registrar is required.
The anticipated date must be prior to the start of semester you are applying for. Also, the certificate must be in a sealed and signed envelope. While we can process your application with the certificate, an offer of admission is not binding until we receive a copy of your actual diploma.
Chinese students are required to submit copies of Bachelor's Degree and Diploma plus the VERIFICATION of their degree issued by China Academic Degrees & Graduate Education Development Center. (http://www.cdgdc.edu.cn)
A final transcript confirming your graduation should be submitted as soon as it is available. We reserve the right to review for reconsideration or revoke the offer of admission if you fail to graduate with your class.
Official Transcripts: If your transcripts do not show cumulative GPA (CGPA) on a 4.0 or 4.3 scale, you are required to submit a letter from your school's registrar. The letter must state your CGPA on a 4.0/4.3 or 100 scale or your rank among graduates.
If neither is available, a letter verifying that your school does not calculate CGPA or rank students. When you receive transcript materials from the institutions you have attended, they must be in official sealed transcript envelopes. Under no circumstances should you open these envelopes.
Letter of Recommendation (Sealed)
Our official Letter of Recommendation form that can be downloaded online from our website (TLBU APPLICATION FOR ADMISSION) must be sealed in an envelope together with the recommendation letter provided by your recommender.
Applicant must write your name and sign the left column of [ I. NOTE TO THE APPLICANT ]
Applicant, then, present the signed form to the recommender and ask to fill out the right column of [ II. NOTE TO THE RECOMMENDER ]
Applicant ask the recommender to write recommendation letter on a separate sheet of paper [ III ]
Applicant ask the recommender to fill out [ IV. EVALUATION ]
Note : Recommender must enclose recommendation letter together with the official form in a sealed envelope.
Documents Needed for Application
Complete Application Form
Personal Statement
Personal History or Resume (in detail)
Letter of Recommendation (Sealed)
Certificate of Degree, Diploma or Certificate of Expected Graduation
Official Transcripts from all colleges & universities attended
Letter of Recommendation (Sealed)
A photocopy of the passport
Color Photos (Passport photo)(3.5cm X 4.5cm)
Official English Proficiency Test Score Report, e.g. TOEFL, IELTS
Send Your Application To:


Academic Affairs Office
TLBU Graduate School
TLBU, 230, Naeyu-gil, Deogyang-gu, 
Goyang-si, Gyeonggi-do, 10264, Korea

Tel: +82-(31)-960-1018
Fax: +82-(31)-960-1062
E-mail: admissions@tlbu.ac.kr 
Note : All documents should be in English. (If the original documents are not in English, then, notarized translations must also be submitted)
Important Notes
The spelling of your name and the birth date must match with those shown in your passport or other official documents in your country.
Only original documents will be acceptable. Photocopied, scanned or faxed documents are not be permitted. If the documents are not written in English, please submit the notarized documents (issued within 3 months) translated into either Korean or English.
Changes to the admission information (ex. degree, certificate and etc.) will be prohibited after submission.
None of the submitted records and documents will be returned.
Any false or misleading statements may disqualify your application.
Official Transcripts from all colleges & universities attended
Late arrival of the application documents after the deadline will cause a failure of admission application.
Student's application can be canceled due to insufficiency of documents.
Scholarship
Your financial circumstances have never kept you from great achievement in TLBU. All students at TLBU are eligible for scholarships. Our staff and Dean is available year-round to consult with you.
Academic Advisor, Prof Choi
Tel : +82-(31)-960-1118
E-mail : BHChoi@tlbu.ac.kr
For any Questions
If you have any questions please feel free to contact us
Tel : +82-(31)-960-1018
E-mail : minyukim@tlbu.ac.kr
Hope to see you soon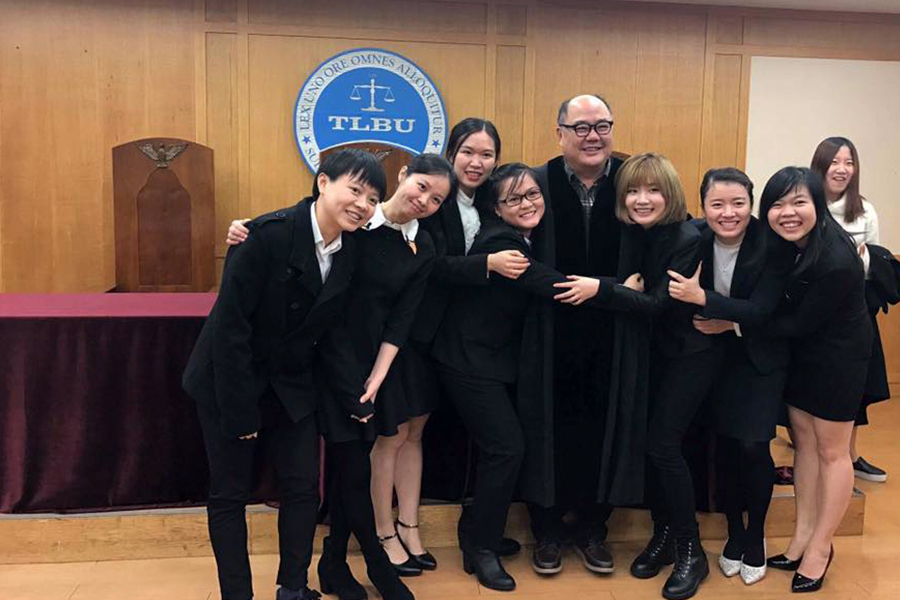 ---