2018 TLBU Opening Ceremony Remark
- 08 September 2018 -
Dear Honorable Guests,
in Particular, His Excellency Cambodian Ambassador Long Dimanche and others diplomats, and other honorable guests. And in New Jersey, USA, Honorable Mayor of Winslow Township Mr. Barry M. Wright, and other honorable guests, And Professors and Staffs, TLBU Family Members in USA and in Paris, and Graduate Students, in particular, New Students, Today we are celebrating, Welcoming Ceremony of TLBU Graduate School of Law in Seoul, and TLBU –St Joseph High School Program in NJ, USA in 2018.
First of all, we welcome new students who join to TLBU Family with dream and strong motivation to be a global leader of their society in this special occasion of TLBU history. You are outstanding potential future leaders who graduated from best law schools in respective countries of East Asia. You are invited here to achieve TLBU Peace-Making Mission in your society with TLBU Spirit. TLBU Peace-making Mission is firstly to care your parents and your home society, and also to strengthen regional and international cooperation and eventually world peace. To achieve this divine mission, you should develop your social ability, international legal knowledge, and global leader's quality. For this purpose, TLBU provides you various special global educational programs, including Field Study in Europe, Field Study for international organization in Hague and Brussels and in Paris and others.
However, to be a global leader, the most important educational program of TLBU is Global Culture and Ethics program: Through this program, you can develop your personal virtue and character as a global leader, and you should also learn good examples of great leaders in world history, and root of human society and culture, in particular, western society and culture, and you should equip strong spiritual strength so that you can overcome all kinds of difficulty and obstacle before your life journey. TLBU Spirit is well expressed in TLBU Alma Mater Anthem. The main content of this should be to love, care your parents and your home society with your own self–sacrifice.

Dear New Students,
You just came to TLBU Family, in the most difficult time and also the most important time. Since we should take off from the local university to global educational system in USA, you should become true global person in terms of culture, language, future plan and basic quality.
Within a few years, we should develop our international high school program in USA, and we are also now preparing TLBU Law School and Law firm in NJ, USA. And I expect several of you should be become important pillars of this TLBU Global System.
And you came also in the most difficult time, as TLBU in Seoul have suffered much since last year, but with strong faith in our Lord and Holy Mother we are now slowly overcoming the most painful crisis. In history, outstanding leaders have been trained through trial and crisis, and I am sure that you should be also trained as strong able leaders through this difficult trial and crisis.
Dear New Students, Now you may understand how much important time you just join to TLBU Family. Now you need strong determination to be a true good leader for your society. For this you should develop yourselves everyday under TLBU educational and training program. Once you are determined to be a global leader according TLBU spirit, please never give up in any circumstances, and get through all the difficulty and obstacle until you achieve your goal.
Dear My New Children, I welcome you again as new members of TLBU Global Family. And I strongly advise you to begin TLBU training program for global leader with strong will and determination, and you should live up to my expectation. This should be the Will of our Patron Founder, Infant Jesus King. Thank you. God bless you.
08 September 2018

LYOU Byung-Hwa
President, TLBU Graduate School of Law

President LYOU Byung-Hwa
The key concept for the 21st Century is "regional cooperation and global cooperation". has been long striving to find an answer for securing global peace and security. As an international law professor he learned the importance of regional and global cooperation as the infrastructure of stable peace and prosperity.
President LYOU served as a diplomat for the Korean Ministry of Foreign Affairs prior to his appointment as professor of international law at Korea University. After extensive experience as a diplomat and an international law professor, he was convinced that regional cooperation among Asian countries would certainly strengthen them and thus improve their standing within the international community, where Asia has thus far not been too concerned. Educating elite students from various parts of Asia would be the starting point for Asian development, which President LYOU thinks will open new opportunities.
Speeches, Remarks, Address and Letters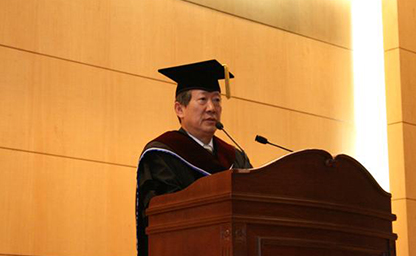 update on the progress - below speeches link will not work